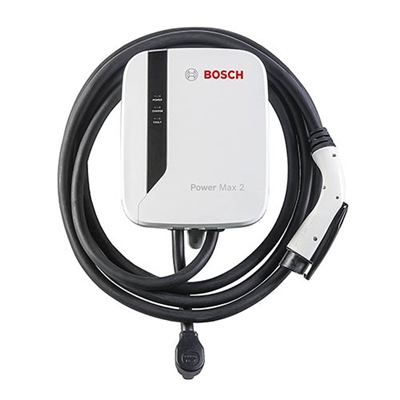 Deal expires on
10/27/2019
BOSCH EV600 Series - 40 Amp Charger

The most popular home EV charger, redefined.

There's a reason this is the most popular electric car charger. Not only is it incredibly durable and powerful at 40 amps, it comes from a large trusted brand of electronics and appliances, and best of all it is one of the most affordable electric vehicle charging solutions on the market. The Bosch EV600 Series is a Level 2 residential charging station supplying 40 amps of electricity to your EV. The car charger is easy to operate and will look right at home wall-mounted in your garage or outdoors. The EV600 Series is UL Listed, J1772 compliant, and connects with the BMW Active E, Chevy Spark, Bolt and Volt, Toyota Prius, Nissan Leaf, Tesla Roadster and Model S, and many more.

The EV600 Series brings the addition of a NEMA 6-50 plug, providing the simplest installation of just plugging it in (you will need an electrician to install plug and breaker). If you would prefer to hardwire the unit (required for outdoor use), simply detach the plug and you're ready to go.


Cable length: 18 ft.
Weight: 20 lbs
Dimensions: 12.6 x 10.3 x 4.5
USB Storage: Yes
Networking: No
40 Amp current
Voltage: 208 VAC - 240 VAC
NEMA 6-50 Plug
Input/Output Power: 9.6 kW
Enclosure: NEMA Type 3R; indoor/outdoor
For more specifications, take a look at the data/install sheet.