State Funding, Tax Credits, & Rebates: Oregon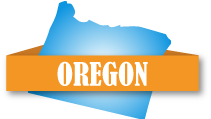 Plug-In Electric Vehicle (PEV) Rebate
The Clean Vehicle Rebate Program provides rebates to Oregon residents, businesses, non-profit organizations, and government agencies for the purchase or lease of PEVs. New PEVs with a battery capacity of less than 10 kilowatt-hours (kWh) are eligible for a rebate of $1,500 and new PEVs with a battery capacity greater than 10 kWh are eligible for a rebate of $2,500. Oregon residents that meet low or moderate household income requirements are eligible for rebates of $2,500 for the purchase or lease of used all-electric vehicles (EVs) and $5,000 for the purchase or lease of new EVs. For more information, see the
Clean Vehicle Rebate Program
website.
Residential Plug-In Electric Vehicle (PEV) Electricity Rebate - Eugene Water & Electric Board (EWEB)
Residential EWEB customers who purchase a qualified PEV are eligible for a $300 rebate to use toward electricity costs or to help offset the cost of a residential electric vehicle charging station. For more information, including how to apply, see
EWEB's Electric Vehicles
website.