State Funding, Tax Credits, & Rebates: New Jersey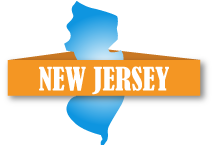 It Pay$ to Plug In: New Jersey's Electric Vehicle Charging Grants program
It Pay$ to Plug In
provides grants to offset the cost of purchasing and installing electric vehicle charging stations. The program is designed to expand New Jersey's growing network of electric vehicle infrastructure, allowing residents, businesses, and government agencies to purchase and drive electric vehicles. EVs dramatically reduce vehicle emissions and improve air quality for everyone.
NJDEP will be leading an effort, in consultation with the NJ Board of Public Utilities, to develop a strategic plan for electric vehicle charging infrastructure across the state. The plan will include Level 1, Level 2 and DC Fast Charging (DCFC) stations. While the strategic map is being developed, NJDEP will continue to provide grants for Level 1 and Level 2 charging stations through It Pay$ to Plug In, NJDEP's grant program for electric vehicle infrastructure. NJDEP will not consider funding requests for DC Fast Charging stations, regardless of the funding source, until the strategic plan is complete.
Visit the website
to learn more about this program and how to apply.
Plug-In Electric Vehicle (PEV) Toll Discount Program
New Jersey Turnpike Authority's (Authority) Green Pass Discount Plan provides a 10% discount on off-peak New Jersey Turnpike and Garden State Parkway toll rates for drivers of vehicles that have a fuel economy of 45 miles per gallon or higher and meet the California Super Ultra Low Emission Vehicle standard. Vehicles must register with New Jersey E-ZPass. For more information, including application instructions, see the
E-ZPass Discount Programs
website.